This is the place to register for online study groups and community events that Unity of Augusta supports. For online study groups you will need internet access and a computer capable of running Zoom. 
Unity of Augusta has been selected to be on the Summerville Tour of Homes on October 21 and 22, 2023. Our restoration efforts are being noticed by our community. Please fill out the volunteer registration form so we can have hosts on site to guide our guests around the campus and give them the history of our buildings.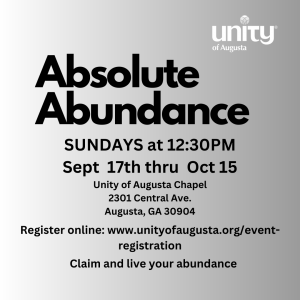 Absolute Abundance!  Rev. Karen will facilitate this prosperity course five Sundays at 12:30 beginning Sunday, September 17 and ends Sunday October 15.This is an amazing program that helps us define, claim, and live our abundance!     This is only in person, here in the chapel.
When you register online, Rev. Karen will send you the material for the course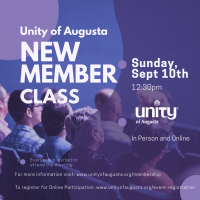 New Member class.  If Unity of Augusta feels like home for you and you would like to become a member OR if you would like to know more about us, Join Rev. Karen on Sunday, September 10th at 12:30.  If you wish to join as a virtual member Rev. Karen will provide a zoom link.    Fill out the form below for online participation.